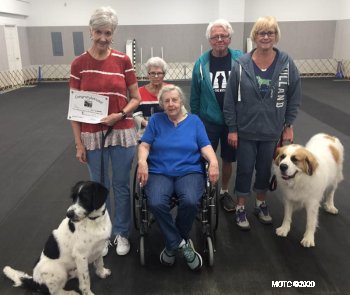 Course:  6 weeks
Prerequisites: CGC or Prerequisite Skills and Instructor Permission.
Prerequisite skills are: Sit and Down on Command, Come from 6 ft. on Leash, Stay in Sit or Down for 30 sec. while Handler is 6 ft. Away on Leash, Walking with LOOSE Leash, being able to Work around other Dog & Handler Teams.
Cost: $90, $54 for MOTC members. TDI test is an additional $5.
Dogs must be at least 1 year of age at the time of the test. Proof of current vaccinations will be required.
For more information about Therapy Dogs International, click here. For information about what your dog must be able to do to pass the test, click here